17 Sep 2015
Russian Wooden Icon Sale Amsterdam MG9355 Four Chosen Saints Russische Houten Ikonen Te Koop Amsterdam
Posted in Russian Icons By Ricus On September 17, 2015
Please, if you have any questions contact me here.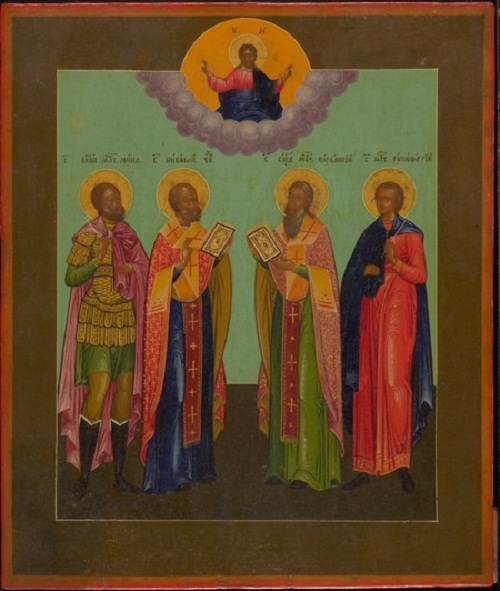 MG9355 Russian Wooden Icon – Four Chosen Saints
Russian icon with four chosen saints: From left to right: Saint Menas, soldier saint, Saint Nicolas the Miracle worker bishop of Myra, Charalampos, church father and patron a cattle, and Saint Boniface, martyr. Christ blessing in the top, surrounded by clouds. End 19th century. Dimensions 31,25 x 26 cm.
Russian Wooden Icons Sale Amsterdam
Russische Houten Ikonen Te Koop Amsterdam
.
Tags:
Antieke Russische ikonen verkoop
,
Antique Russian Wooden Icons for Sale Amsterdam
,
Houten ikonen
,
houten ikonen te koop
,
old icons Europe
,
old wooden icons to buy Europe
,
oude ikonen Europe
,
Oude Russische Ikonen Te Koop Amsterdam
,
oude Russische ikonen te koop Nederland
,
Russian wooden icons
,
Russian wooden icons for sale
,
Russische Houten Ikonen
,
Russische houten ikonen Nederland
,
Russische houten ikonen te koop
,
Russische houten ikonen te koop Amsterdam