11 Jul 2015
Ricus Dullaert – Art & Antiques Dealer – Johannesburg – Amsterdam
Posted in About By Ricus On July 11, 2015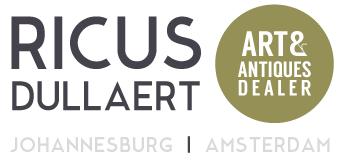 .
International Antiques Dealer in Russian, Greek, Dutch, Chinese and Japanese Antiques
Ricus Dullaert is an all-round antiques dealer. In Amsterdam, Ricus deals mainly in antique Russian and Greek icons, antique Dutch portraits, Dutch furniture and Dutch Bibles. In South Africa, the collection consists of antique Chinese porcelain, lacquer, jade, ivories, woodcarvings and paintings, Japanese antiques, as well as antique Dutch furniture, Continental paintings and various antiques such as clocks and Bibles.
Binnenkant, Amsterdam, The Netherlands
The base of the firm is the impressive Amsterdam canal house "Faith, Hope and Love". (See photographs on SAADA website www.saada.co.za under Media). This Amsterdam merchant house was constructed in 1648 and redecorated in Rococo style in 1763. All the interiors are original, in a splendid state of conservation and decorated with contemporary antiques. The house boasts an original Rococo hall and staircase, a 17th century kitchen, a 17th century chamber for private visitors and a well-stocked icon gallery. The house is decorated with 18th century portraits, furniture and Chinese porcelain. On appointment, Ricus Dullaert, Expert & Icon Restorer Mrs. Veronika Begounova or Art Historian Albert Smit MA, can show you around in this canal house on the Binnenkant, Amsterdam.
Mountainview, Johannesburg, South Africa
In Johannesburg the collection can be admired at the fairs, or in the showrooms in "Orchid Lodge" constructed by the Dutch architect Breedveld, in Mountainview. If Ricus Dullaert is not available in Johannesburg, Mr. David Wu, his assistant, is prepared to show you around (English and Chinese spoken).
From Ricus Dullaert you can expect a splendid collection, a wealth of knowledge, an international taste and years of experience. Occasionally Ricus does antique valuations. His twin brother Peter continues the valuation business in the Netherlands and is the source of many pieces in the collection of Ricus Dullaert.
International Antiques Fairs
Kunsthandel H.W.C.Dullaert exhibits at International Antiques Fairs including:
Pictura Amsterdam International (held annually in November in Amsterdam)
Antiques fairs in Bruges / Belgium (1989-1996)
Olympia / U.K. (1991-1993)
Breda / Netherlands (1990-2006)
Moscow (2012)
Shanghai (2014)
SAADA annual antique expos in Johannesburg & Cape Town
NAADA fairs as a guest exhibitor in Johannesburg
Nelson Mandela Fair
.
Source: Ricus Dullaert Art&Antiques Dealer
.
Tags:
Antique Decorative Art
,
Antique Dutch Bibles
,
antique Dutch portraits
,
Antique Paintings
,
Antique Religious Art Amsterdam
,
antique Russian and Greek icons
,
Antiques Dullaert Amsterdam
,
Byzantine Icons
,
Chinese Antiques
,
Decorative Art
,
Dutch furniture
,
Dutch paintings
,
Greek Icons
,
Japanese Antiques
,
Religious Art
,
Ricus Dullaert
,
Russian Icons