CHAPTER 2: THE NAZARETH HOUSE A.R.V. CLINIC "THE CLINIC OF HOPE AND LOVE"
In June 2004 the SACBC AIDS Office agreed with the Nazareth house JHB management that Nazareth house JHB would open an ARV clinic on their premises which would be funded by PEPFAR funds that had been made available to the SACBC AIDS Office. In the first year Sr. Irene Holland and myself had to manage the clinic and had to appoint a nurse, a doctor, counselors, a financial manager, data-capturers and cleaning staff. Remarkable enough almost the entire staff of the Nazareth house clinic of Hope and Love is faithfully serving the HIV/AIDS patients from this early beginning till today and have shown enormous dedication and faithfulness to their job which they often see as a calling from God.
In the first year the target was to put 100 patients on ARV's starting with the children of the Nazareth house children's home who were facing a painful dead. Sr. Irene and Sr. Agnes developed themselves to professional counselors of the kids backed by Sr. Sylvia Simpwalo and Dr. Kerrigan. In the years till 2007 the number of patients on ARV's in Nazareth house saw a gradual growth till we were serving up to 700 patients with ARV's. In 2006 the Nazareth house support group for adults started in the Nazareth house clinic and from 2007 I managed to bring large "Christmas beads" orders from the Netherlands to help the support group members to earn some extra income.
After the S. African president Thabo Mbeki was unseated in 2007 and the reign of his health minister Dr. Manto Tshabalala-Msimang came to an end, the winds of change start to blow over South Africa. In the following years numerous ARV clinics sprang up in Johannesburg and the surrounding townships. Nazareth house ARV clinic of Hope and Love was approached in 2008 by Francois Venter , HIV specialist from JHB Gen with the question if we as Nazareth house ARV clinic could specialize ourselves in refugees with HIV and if we could refer stable S. African patients to Government clinics. So from 2008 on an Exodus started from S. African patients to clinics in the areas where they lived and the hospitals like Helen Joseph, Johannesburg Gen, Selby etc started to refer refugees with HIV to our clinic.
In the years till 2012 the number of patients helped by the clinic of Hope and Love to obtain ARV's had grown to 2000 patients and circa 1000 patients received monitoring in the Hope and Love clinic. From 2012 Government clinics became more welcoming to foreign HIV/AIDS patients and Sr. Sylvia and her staff referred more than 1000 stable patients to Government clinics. In 2013 the Nazareth House ARV clinic was threatened with closure because the PEPFAR funds would end at the end of the financial year 2012-2013 and because the Provincial Department was not ready to fill the gap.
On the last moment however Sr. Alison of SACBC Aids Office got permission to keep the Nazareth house clinic open for another year with unspent PEPFAR funds. This gave us room to negotiate again with the Provincial Department of Health and in September 2014 an M.O.U. was signed which gave us the right to obtain free A.R.V.'s and free blood tests from the province. In the beginning of 2013 when closure of the Nazareth House clinic seemed to be unavoidable again a great number of patients has been referred to Government Clinic's. Only 350 patients on ARV's with complications or without legal documents stayed with us.
In the middle of May 2015 a new M.O.U. was signed with the National Department of Health which made it possible to obtain funds to pay the clinic staff salaries. Dr. Kerrigan and Sr. Alison both did a lot to make this possible. On the moment the Nazareth house A.R.V. clinic is growing again and soon we expect to exceed the 1000 patients bracket again with 800 patients on ARV's and 200 patients being monitored.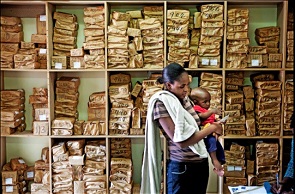 We could tell hundreds of stories of patients who came to the clinic of Hope and Love. Often those patients came ashamed of themselves, in denial about their HIV status and without any hope to live much longer. But Sr. Sylvia and her staff managed to counsel then and tell them that HIV was not a death sentence but the beginning of a new live with HIV. And in this way they made the name of the clinic of Hope and Love a daily reality.
Let me relate the story of Thabile Mahlambi as an example:
THABILE MAHLAMBI, BORN 12-4-1987
In the beginning of 2003 Thabile Mahlambi knocked on the door of Nazareth house. She was sixteen years old, very ill and she has lost her parents and her house and had nowhere to go. Sr. Mura felt pity for her and housed her in Nazareth house JHB. Thabile was encouraged to test for HIV and turned out to be HIV positive. On 1-4-2003 her son Thabelo was born in Nazareth house and thanks to the help of Dr. Kerrigan it could be prevented that he contracted HIV from his mother Thabile. In December of that same year the father of Thabelo was murdered and there was no other solution for Thabile than to remain in Nazareth house. Thabile was one of the first 100 patients that were put on ARV's in the Nazareth house clinic of "Hope and Love". Thabile got a job as kitchen assistant in Nazareth house and the first years Thabelo lived in the Nazareth house childeren's home just around the corner from Thabiles job in the kitchen. In 2005 I drove with Thabile and Thabelo to Swaziland to try to find her relatives back and we managed to find grandparents, cousins and nieces. With the help of a friendly lawyer Sr. Mura and myself managed to get Thabile legal papers to stay in S.Africa and after some years in Nazareth house Thabile was ready for independent living and rented her own apartment. On 20-11-2012 Thabile was blessed with a healthy daughter with the name Sibongile. Thabile still works in the kitchen of Nazareth house and manages to run her small family alone.