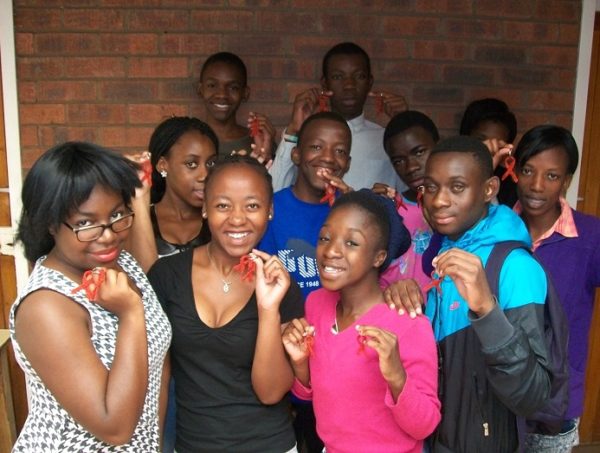 STORIES ABOUT THE DAY TO DAY HELP THAT PERSONS LIVING WITH HIV OR AIDS RECEIVE IN NAZARETH HOUSE JOHANNESBURG SAINT BASIL'S HOSPICE AND THE NAZARETH HOUSE ARV CLINIC, "THE CLINIC OF HOPE AND LOVE".
INTRODUCTION:
This document is dedicated to all who have left fathers, mothers, their country, their comfort zone, their carrier, the hunt for riches or standing to do what the Holy Spirit has asked them to do: To serve the poorest of the poor suffering from HIV or AIDS in Nazareth house , Johannesburg.
Dear Reader,
With great pleasure we present you this document titled "A good story to tell". It narrates an attempt by religious of the Little Sisters of Nazareth and faithful laity to understand the signs of times and to care for people living with HIV and AIDS in the center of Johannesburg. Victoire Larmenier urged her followers to care with compassion, justice, hospitality, love, respect and patience for the poorest of the poor. And in this poorest of the poor we can meet Christ Himself!
Over the last 14 years this interaction with the poorest of the poor found a unique shape in interacting with PLWHIV and AIDS in Nazareth House in downtown Johannesburg, especially in Saint Basil's Hospice and the Nazareth house Outpatient's A.R.V. clinic "The Clinic of Hope and Love". Under the leadership of Sr. Mura Dogerthy of Nazareth House this ministry was allowed to flourish and save thousands of lives. And as the Gospel says in Matthew chapter 11, verse 5: "Go and report to John what you hear and see: The blind receive sight and the lame walk, the lepers are cleaned and the deaf hear, the dead are raised up and the poor have the gospel preached to them".
And exactly this is happening on a day to day basis in St. Basil's hospice and the clinic of "Hope and Love". All this would have been impossible without the help of many lay people who got inspired by Sister Mura's vision and compassion. This document aims to share some of the wonderful stories and the great deeds of God that we have been able to witness. I hope it fills a gap because catholics are often very good in helping the poorest of the poor but bad in reporting about it. I hope this witness will convince all readers that all the efforts done by so many to keep this ministry alive have not been done in vain but that it was God's plan to keep this ministries alive till the present day.
Greetings from the author, Ricus Dullaert. August 2015, Johannesburg.
CHAPTER 1: THE SAINT BASIL'S HOSPICE
In 2001 the Nazareth House sisters and staff found the time ripe to start a new ministry: The care for terminally ill HIV and AIDS patients. Sr. Mura opened a wing of the old age home for this purpose and from January 2002 the first patients started to occupy this wing.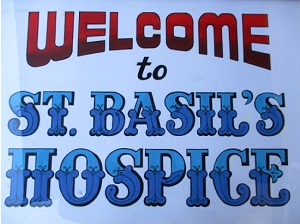 Initially most patients died because life saving A.R.V. medication was difficult to get and it was sad to witness these young adults, often parents of young children, died an unnecessary and painful death. In June 2004 there came some light in the very dark tunnel when the Southern African Catholic Bishops Conference Aids Office under the leadership of Sr. Alison Munro O.P. and Johan Viljoen managed to get a P.E.P.F.A.R. (Presidential Emergency Plan For Aids Relief), grant to make A.R.V. (anti retro viral) medication available to the poorest of the poor. Nazareth House JHB was chosen to be one of the sites to start an Out Patient Clinic.
But the beginnings were humble. We were tasked to put 100 patients on A.R.V.'s in the first year. And still most of the HIV and AIDS patients were in denial in those days and were unable to get A.R.V.'s. Therefore Sr. Mura changed a wing of Nazareth house into a proper hospice (a better name is in fact "In Patient Unit") and on 7-12-2005 this Saint Basil hospice opened its doors. From the onset Saint Basil's hospice was blessed with an excellent and extremely motivated part time medical doctor: Dr.Kerrigan McCarthy.
Dr. Kerrigan had the calling to help HIV and AIDS patients, refugees and South African's, children, teenagers and adults alike and had a remarkable success in saving lives even of the most "hopeless" AIDS patients. Many of those are now Support Group members of the Nazareth House Support group for PLWHIV and can relate how they came to the hospice with zero, 10 or 20 CD4 cells and a sky high viral load accompanied by opportunistic infections like shingles, TB, lung infection, diarrhea or meningitis and how Dr. Kerrigan assisted by a dedicated staff managed to save their lives and avoided that their children would become orphans without a future.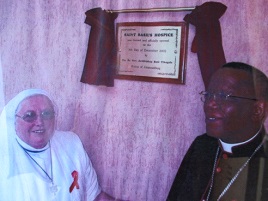 One of these patients is Siphesihle (Good Gift) from S. Africa:
SIHLE (BORN 11-11-1998)
Sihle came as a 16 year old boy to Nazareth house hospice half paralyzed and unable to walk. Both his parents died of AIDS and he was referred to us by Helen Joseph Hospital. When he came he had a long history of defaulting his ARV medication. After a medical intervention, consequent ARV treatment, rest and loving care Sihle was ready for physiotherapy by our Congolese physiotherapist Gregory. After learning to walk again with an iron implement Sihle managed to walk without help again and was reunited with his family in Mpumalanga by our social worker Benita. Sihle stayed in Saint Basil's hospice between 1-8-2014 and 7-10-2014.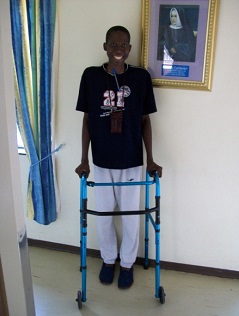 AMON (BORN 9-3-1964)
Amon is in the picture of the Nazareth house care system since early 2009. Amon is a really proud and stubborn Zulu from Tugela Ferry. His HIV+ wife Andiswa from Zimbabwe was already years support group member when we established our first contact with her husband Amon. Andiswa already had walked a long way to accept her HIV status but Amon was very ill at home and refusing to admit his status. On one day the Zimbabwan support group member Irene and myself accompanied Andiswa to the room Andiswa, Amon and their 3 kids were sharing in Cavendish street in Yeoville. The room was situated in a filthy, squatted house full of people, many of them alcoholics and with hardly any washing facilities. Andiswa, Amon and their kids were sharing a small room with a sick neighbor. Irene and my self tried to use our own HIV status to convince Amon to come to Nazareth house clinic but it took months and months before he indeed came.
When Amon was admitted for the first time to the hospice on 10-4-2010 he was already out of his job as taxi driver for more than a year, because his bum was so full of wounds and infections that he simply could not sit. Amon had undergone a piles operation in JHB Gen but the wound had gone septic due to the bad hygienic circumstances in his house. Amon has been several times in Nazareth House hospice, first from 10-4-2010 till 7-6-2010, later from 14-1-2013 till 3-6-2014 and again from 4-11-2014 till 3-3-2015.
While he was admitted in the hospice he has been admitted several times to JHB Gen again for operations because puss was oozing from the severe wounds in his buttocks. Amon is home again but stays to be in pain and is unable to work. The doctors have advised him to go for a colostomy bag operation but up to date he has refused such an operation enlarging the risk that the wounds around his anus will infect again. Our social worker Benita helped Amon to get a grant so that he at least has an income.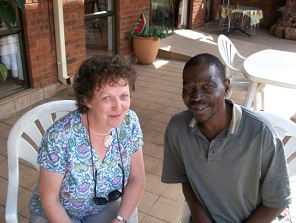 TAMSANQA (BORN 11-11-1998)
Tamsanqa whose name means "Lucky" in IsiXhosa (16 years old) is the only son of a single mother of Zimbabwe with 5 children: Nomathemba. We met Tamsanqa and Nomathemba through the witness of Nomathemba's sister who told in a support group meeting in 2013 that her cousin of 14 years old was deadly ill and that she suspected that he and his mother would be HIV+. Our committee member Portia and support group member Linda went to pay a visit to the house of Nomathemba and found Tamsanqa in bed in a shocking condition more dead than alive.
They convinced Nomathemba to bring Tamsanqa the next day to Johannesburg General hospital where he was diagnosed with HIV and TB. Tamsanqa stayed circa 3 weeks in the hospital and was discharged with TB and ARV treatment. A half year later Sr. Sylvia Simpwalo our ARV clinic manager and Sr. Benita Moyo, the social worker from the clinic and the hospice, heard that Tamsanqa was ill again and went for a home visit. They found him coughing blood and very ill again in bed. I went to the house and convinced Nomathemba that Tamsanqa had to be transported to Nazareth house ARV clinic and I did so the next day. Tamsanqa was admitted in the hospice on 1-8-2014. Sr. Sylvia transferred Tamsanqa to the Nazareth house hospice because it turned out that Tamsanqa was defaulting his medication all the time.
After weeks of counseling and fighting with him the "penny dropped" and Tamsanqa did understood that if he wanted to live that he should take his ARV medication every day for the rest of his life. In the meantime we tested Nomathemba as well and she turned out to be positive as well. Sixteen years before she lost her husband to a mysterious disease and most likely Tamsanqa has been HIV+ from birth. One of the problems Tamsanqa had was that he struggled with whom "to blame" for his illness also because it never became clear to him who gave him HIV and from what causes his father died. So Tamsanqa was several times counseled together with his mother Nomathemba and was discharged on 7-10-2014. He was referred to the teenage support group under the leadership of Sr. Sylvia and Sr. Benita for ongoing emotional support.
Nomathemba started to attend the adult support group, did a training "fashion and design" on behalf of the Nazareth House support group and is now able to support her family from the income she generates with her sewing machine she bought from the bonus the Nazareth House support group gave her when she was able to show her "fashion and design" certificate. Tamsanqa is back to school and does well only his very late start with ARV's left him with a bad eyesight and he has to go often to doctors to have his eyes checked.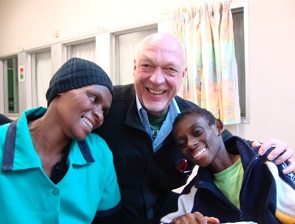 MAEVIS NOMGENGE (BORN 23-6-1960)
Maevis Nomgenge from the Free State was admitted in St. Basils hospice on 3-9-2009. She was brought to us by social workers because she was staying in a very poor shack under a bridge in Faraday street in downtown Johannesburg. She had at that point of time seven children, two of them were living on their own, two were residing in the Free State, in a Government run children's home were Benita managed to trace them. One was staying in a children's home in Kathlehong and the two youngest in a children's home in Brakpan.
Maevis had full blown AIDS and was very ill. She had defaulted her TB treatment and had to start with TB treatment afresh in our hospice. When her sputum was negative for TB she was put on ARV's and she was helped to get glasses because her eyesight was extremely poor. On 10-5-2010 she was discharged and was living for some time with her sister and later again with her brother in the Free State. Maevis joined the support group meetings often and really liked to be in our midst. Often she started crying and was relating how much she missed her children.
Years later in 2013 she phoned me one morning and told me that one day she abandoned her daughter Maria when the child was 3 years old, run away with her older children and left Maria alone in a shack. She told me she was torn apart by feelings of guilt and that her daughter Phindile had traced Maria in a children's home in Kathlehong township. Maevis asked me if I would be mediator in reuniting her and her daughter Maria who was 18 years old in the meantime and gave me the number of the children's home.
After some time I managed to speak to Maria and related to her the whole story of her mother. A week later Maevis, Phindile, Maria and myself were sitting around the table in a Dorrego's restaurant in downtown JHB and the tears were flowing and stories were told. Maevis told her daughter's how she struggled as a HIV+ mother with small kids abandoned by her husband and living from scavenging on a waste dump and begging in the streets. And at the end she could not take it anymore, left Maria in the shack in the hope the neighbor would find her and run away with the 2 older children.
Maevis apologized and Maria accepted the apology and since then the family is reunited again. They don't live together however. Maria I managed to enroll in a beauty therapy college and she earns her own living now. Phindile studies in CPT and I help her now and then with books and transport. With birthdays and Christmas the family meets and enjoys being together.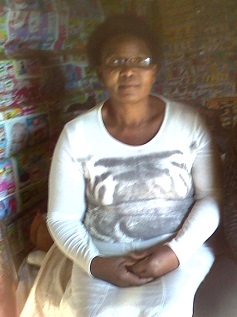 MANDLAKHOSI DUBE (BORN 20-12-1978)
Mandlakhosi is a Zimbabwean refugee, is married and is a father of a daughter and a son of 10 and 3 years old. He lives with his wife in the very poor town ship of Tembisa 30 kilometer from downtown JHB. Mandlakhosi was admitted in St. Basils hospice on 18-12-2012 with a very low CD4 account, vomiting, suffering from diarrhea and very weak.
He was hardly able to stand on his feet. After proper medical care, proper medication, proper food and physiotherapy Mandlakhosi walked out of the Nazareth house gate again on 26-3-2013 as a healthy young man. He became an ardent support group visitor and did a skills training for fork truck operator. From his bonus money he also managed to succeed in getting a driving license. Madlakhosi earns his living currently as a security guard and is able to feed his family again.
VICTOR UWENGA (BORN 16-8-1968, DIED 9-7-2015)
One of our oldest Nazareth house hospice and ARV clinic patients was Victor Uwenga, a Nigerian from Benin Republic. Victor was a walking story book. According to him he was from a noble family and his father was a high official at the Royal Palace of the Oba of Benin. According to Victor his father had 99 wives and Victor was the son of the last wife of his father. Victor liked an adventurous live and managed to make many adventurous travels in the eighties and the nineties which brought him to Egypt, Greece, the U.K. etc. Victor told that he was an ex-drugs dealer and could show you glitzy pictures of his golden years.
Victor came for the first time to Sr. Sylvia Simpwalo in the Nazareth House ARV clinic in 2004, brought in by the Sisters of Mother Teresa where he was residing after he was thrown out of prison with a CD4 account of zero. The next eleven years Victor was one of the most regular visitors of the Nazareth clinic and support group we ever had. In the home of the sisters of Mother Teresa Victor met Zodwa (nicknamed Smumu which means "unable to hear or speak" in Zulu) and they decided to live together. In 2007 their son Josephat was born. Unfortunately Josephat could not enjoy the company of his father very long because Victor was forced to stay for 2 years in Sizwe TB hospital, a place for HIV patients with Multi Drug Resistant TB (MDR TB), after he stayed from 25-6-2008 till 31-7-2008 in St. Basil's hospice. The sisters of Mother Teresa again housed Zodwa and Josephat. In 2010 a second son Emmanuel was born.
Victor was extremely stubborn and was never able to stop his habits of smoking and drinking brandy. Unfortunately smoking and drinking were both taboo especially with the poor condition of his lungs. But at the end of the day the clinic staff and everyone would forgive Victor because he had such a humble character and because he always begged for forgiveness. It would be easy to write a book about Victor alone but that does not fall into the scope of this brochure.
Victor was helped by the support group of Nazareth House to set up a small telephone business and when that failed a small second hand clothes stall. Unfortunately both enterprises failed because alcohol and cigarettes were bought instead of new stock. In the last year of his live Victor was admitted again and again in Johannesburg Gen hospital after he had coughed up large quantities of blood. From 30-9-2014 he was again admitted in St. Basil's hospice till 16-10-2014 and from 11-6-2015 till his death on 19-7-2015 again. He died in JHB Gen hospital and his funeral service was held in Nazareth House chapel because Victor was a proud catholic. Victor's family had no means to repatriate his body to Nigeria and eventually the support group paid for his funeral on West Cemetery in JHB.
On 6-7-8 August 2015 Benita Moyo the social worker of the Nazareth house clinic and hospice and myself travelled with Zodwa, Josephat and Emmanuel to Port Shepstone (700 kilometers from JHB) to reunite Zodwa and the kids with her Zulu family whom she had not seen for 19 years. If everything goes according plan Zodwa and her sons will go for good to Port Shepstone to live with the family in December 2015. They have been welcomed with open arms!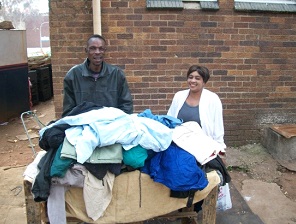 JOHANNA MOTAUNG (BORN 5-7-1997/DIED 25-2-2014)
Sometimes we get patients whose lives are already so damaged when they arrive at St. Basil's hospice that there is very little we can do for them to prolong their lives. Sometimes we can only give a clean bed, food, attention and love. This was also the case with Johanna Motaung who came to us 16 years old, very ill and with a history of defaulting her ARV medication. Johanna's mother died of AIDS and she and her 3 siblings lived with their aunt in Duduza.
Unfortunately her aunt was an alcoholic and was not able to give proper supervision to Johanna and her one year older sister who was also HIV positive. Johanna's sister died in Johanna's arms while sleeping in the same bed and Johanna was raped by a friend of her father. Her aunt send her on her own to the ARV clinic and for a teenager with such a traumatic past it was just too much to fight for her live and take the HIV medication properly. Johanna was still attending the Christmas party from the Nazareth House teenagers support group and enjoyed herself there very much.
In the New Year 2014 things changed for the worst and she picked up a meningitis infection and was brought to Johannesburg General hospital. We as Nazareth House support group members and hospice staff were the last persons to visit her there. And Portia one of the support group committee members cooked "pap and vleis" for her and we brought her mageu (sour drinking yoghurt) which she liked very much. She always asked us to pray an "Our Father" for her before we left her and on 25-2-2014 she died in the hospital. A very tragic story!
KANGO HASSAN (BORN 19-5-1982)
On 28-7-2014 the Congolese refugee Kango was brought to Nazareth house by her father in law, accompanied by her 4 year old daughter Jemima. Kango comes from the war torn part of East-Congo and it is a miracle in itself how she managed to reach S.Africa. When Kango arrived in St. Basil's hospice she was unable to walk and was diagnosed in Helen Joseph hospital with MDR TB. Her boyfriend deserted her and her daughter when he found out they were ill. The staff of St. Basil hospice managed to cure Kango from her MDR TB and in the meantime her daughter Jemina was placed in Nazareth House Children's home because Kango was very critical ill and no one wanted to take care for the child.
Sometimes it was difficult for Kango to understand why she could not have her daughter with her while her TB was still not 100% cured. Imagine what would have happened if she would have infected her daughter with MDR TB and if Jemina again would infect the other children in the Nazareth house children's home with this killer disease! In April 2015 Kango was so far improved that she could be discharged but it was not very clear in how far her boyfriend could provide for the small family and Kango insisted that she needed R 3.500. for a deposit for a flat.
In April a photo crew of Stop Aids Now from the Netherlands came to Johannesburg to look for refugees with HIV who had fled from their country because there were no ARV's available. Kango qualified to be interviewed and photographed by this crew and was able to earn R 3.500 for her deposit. On 13-6-2015 Kango was discharged and Jemina lives still in Nazareth House children's home till the end of her retention time, when she will be returned to Kango her mother. Now and then Kango comes to the support group to show her face.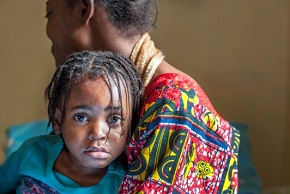 EPILOGUE
After you have read this few stories of the few patients out of hundreds that I have described here you will realize from what difficult backgrounds our hospice patients are coming. The staff of St. Basil's hospice have their hands full with patients with countless problems. Often HIV/AIDS is only one of the many problems they are facing. They also have to battle with hunger, insufficient income to find a place to live, problems with their legal status in S.Africa, problems to provide proper schooling and living conditions for their kids, lack of job opportunities, language barriers, lack of family support, problems how to pay their medical bills, stigma that surrounds their HIV status and problems how to communicate with their children about their illness.
In the past 8 years it has been a blessing that the social worker from the ARV clinic Benita Moyo also could render her services to the hospice patients. Another great blessing has been that Dr. Kerrigan was all those 10 years a pillar of strength to patients and staff alike. The staff of St. Basil's hospice has managed to save the lives of circa 80% of the patients in their care and in this way they have avoided that the children of these patients would become orphans and in this way their efforts got a multiplier effect. Therefore the name hospice which implicates a place to die in dignity better could be replaced by "Inpatient unit". We are grate full to the Department of Health, Nazareth house and many large and small donors who saw the need in keeping St.Basil's hospice open.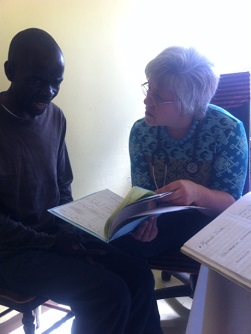 .
.