Please click on the image to see more.
.
.
Russian Icons Sale Collection Ricus Dullaert Amsterdam!
.
(Click here please if you want to contact me.)
The owner of the firm, Ricus Dullaert, has the title of sworn appraiser in antiques and has also completed theological studies, which gives him a deeper understanding of the meaning of (religious) art. On appointment Mr. Ricus Dullaert or Expert & Icon Restorer Mrs. Veronika Begounova, are happy to welcome you to the house, show you the Russian Icons Collection and answer any questions you may have.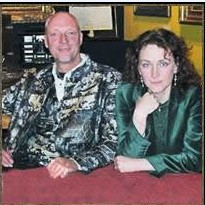 Our firm is located on one of the quietest and widest canals of 17th century Amsterdam-Holland-Europe. We are very proud of its 17th century premises. The house 'Love, Hope and Faith' was built in 1648, redecorated in Rococo style in 1763 by Johannes de Witt, and until the present day is almost totally preserved in its original splendor.The sumptuous hall, the stucco light cupola, the statue of Minerva with the symbols of Love, Hope and Faith and the original style rooms with beautiful Rococo marble chimney-pieces and rococo boisseries give the house the grandeur of Amsterdam in the Golden Age.
In the dining room there is a fine collection of Dutch and Flemish decorative paintings on display dating from the 17th through to the 19th century. A highlight is an erotic portrait of a young Italian girl from the studio of Count Pietro Rotari. 160 similar portraits decorate a cabinet in Peter the Great's Summer Palace in Petrodoworetz near Sint Petersburg, Russia.
In the Icon Gallery an impressive collection of Russian and Greek icons can be admired dating from the 16th through to the 19th century.
A highlight of the icon collection is a large icon depicting the Last Judgement, Central Russia, 18th century. This icon measuring 140 x 106 cm has an incredible number of finely painted figures on it.
Another very fine painting is a Year Calender icon with 84 different iconografies of the Mother of God on its borders.This icon comes from an 19 century Old Believers workshop.
An interesting folding altar depicting the whole iconostasis, dating from circa 1800, is also worth mentioning. Numerous smaller icons dating from the 16th through to the 19th century including Palech and Mystera icons complete the collection.
The Entire Icons Collection consists of traditional wooden icons and a large selection of brass traveling icons.
In the 17th century garden room we see some fine examples of Dutch 17th century furniture and of gobelins from Oudenaerde.
All this icons, paintings and decorative art are authentic antique items and are for sale.

.
.
Russian Icons Sale Collection Ricus Dullaert Amsterdam
.